£1.6m contract for Viking Shipping
Britcon had landed a £1.6 million contract to develop expansion plans for Viking Shipping Services in Yorkshire.
The company, which provides comprehensive freight forwarding and cargo handling services worldwide, aims to expand its offerings at the Selby site with a new warehouse and office facility.
Britcon will complete the design and build phases of the 12,000 sq ft warehouse and adjoining 4,500 sq ft offices.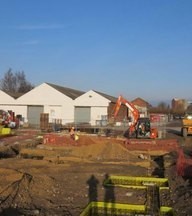 Construction has commenced on site and is expected to take 29 weeks to complete.
Matt Harker, Regional Manager at Britcon said:
"We are pleased to be appointed by Viking Shipping to assist with its exciting growth at Selby. Amongst our expertise is full turnkey solutions where we are able to take care of planning issues, ground and civils works and of course the build programme.

"On this particular project two of the original rail lines dating back to the historical landmark are still exposed with two sets of buffers and the local authority has requested that we maintain these as practical in the new build."
Graeme Pickering, Director at Viking Shipping Services added:
"After a thorough contract tender process managed by GGP Consult we were pleased to award Britcon the Viking project and commence the new development at our Selby site. We look forward to working with the Britcon team."
For more information about Britcon and our range of Civil Engineering, Building and steel etc, please contact us on 01724 280022