15,000sq ft Industrial Unit Completed, Markham Vale
Britcon have completed the new 15,000 sq. ft industrial unit at Markham Vale on behalf of Priority Space.
The new industrial unit located just off J29A of the M1 provides a secure, self-contained yard area and integral offices, available for sale or lease.
The unit follows the completion of phase one of Wilson Business Park, developed by Priority Space to provide 13 units for small to medium sized businesses and is now fully occupied.
Wilson Business Park sits within the Markham Vale flagship regeneration zone which is a 200-acre business and distribution park.
Lee Buchanan, co-director at Priority Space, said: "We are pleased to complete the second phase of this development which provides large warehousing space to an area where there is demand. We have seen a great deal of interest in the site and hope to secure an occupant very soon.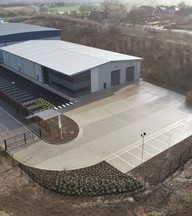 "The development of Wilson Business Park has enabled Markham Vale to become one of the biggest commercial parks in the region and we're proud to have contributed towards that."
For more information about Britcon and our range of Civil Engineering, Building and steel etc, please contact us 01724 280022