Britcon arrange educational trip for local school
Britcon invited and arranged an educational trip for school children, just before the Easter holidays, to HG Homes' new housing development, Yaddlethorpe Grange, Scunthorpe.
The children from Enderby Road Infant School have watched the development progress from just over the road for more than a year and were given the opportunity to see first hand what really goes into building new homes and even sit in a digger!
Following the visit, HG Homes donated some wood for the school to make planters, beds and a mud kitchen. The site team also collected and donated 76 Easter eggs as a treat for the children as part of a school collection.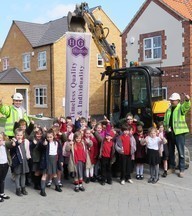 Deputy Head Teacher at Enderby Road Infant School, Helen Vaughan said, "The Year 2 children had a fabulous and informative time visiting the new housing development. They impressed the builders with their questions about the suitability of different materials for different jobs and several of the children declared that they couldn't wait to be builders and "work with all this awesome stuff!" All of the builders were so friendly and welcoming and the forklift truck demonstration was a highlight for everyone!"
Declan Hunt, Site Manager for Britcon at Yaddlethorpe Grange said, "We were delighted to host this very special visit from Enderby Road Infant School as a part of our commitment to community engagement. It was great fun showing them the ropes and we hope that we have inspired some of them to pursue a building career in the future."
HG Homes is a part of Scunthorpe established Hunt Group which also owns building and civil engineering company Britcon. Yaddlethorpe Grange is new development of 68 two, three and four bedroom houses.
For more information about Britcon and our range of Civil Engineering, Building and steel etc, please contact us on 01724 280022