Britcon proud to be Lead Sponsor for the North Linconshire Triathlon Race Team
Britcon has committed as lead sponsor for an elite North Lincolnshire Triathlon team after a phenomenal year of racing.
2018 has seen exceptional performances from the Britcon Triathlon Race Team which includes Steve Clark (Middle Distance Triathlon European Champion 2015 and winner of the Triathlon X in 2017 "world's toughest Ironman distance" as voted by 220 Triathlon Magazine), Steve Grocock (World Ironman Competitor), Jordan Skelly (3-time British age group winner), Amy Grocock (Great Britain Triathlon squad member) and Nick Martin (British Sprint Champion).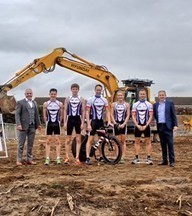 Steve Clark, who also runs Off That Couch Fitness training other budding athletes, said,
"We've had a really exciting year and are thrilled in particular for Nick. In 2018 he has performed out his skin with nine first places including the Doncaster 10k where 3,000 people entered! We are of course delighted that Britcon had committed to support us for a fourth year as we continue to represent North Lincolnshire in some of the world's toughest races and pleased to announce that Jack Skelton, a triathlete from Scunthorpe, is joining the team".
Shaun Hunt, Chief Executive at Britcon said,
"We are delighted to continue our support to these high achieving athletes who have really done us proud in 2018. What they do is phenomenal, flying the flag for North Lincolnshire by competing in some of the most gruelling and prestigious sporting events throughout the UK and World".

"Our sponsorship provides essential funds for kit and equipment for the team to compete on the world stage. It also means that our own Britcon employees can benefit greatly from one-to-one sessions with these athletes for training, fitness classes, nutrition seminars and general health and well-being advice".

"We'd like to wish the whole team all the best for the 2019 season. We very much look forward to working with them and helping the team to achieve their goals".
For more information about Britcon and our range of Civil Engineering, Building and steel etc, please contact us on 01724 280022